JCN Launches Two New Ads with Seven-Figure Ad Buy

The Group Has Spent Over $8 Million on Effort to Confirm
Judge Amy Coney Barrett
WASHINGTON, D.C. — Today Judicial Crisis Network (JCN) launched two new ads as part of an all-out campaign to confirm Judge Amy Coney Barrett to the Supreme Court.  JCN has over $8 million on the grassroots mobilization effort so far.  The group expects to spend at least $10 million on the effort.
This dual ad launch features a $1 million dollar spend. The ads, "Amanda" and "Laura," will begin airing today nationally on cable TV and digital.
JCN's first five ads—"Follow the Precedent", "From Her", "Stop the Bigotry", "JFK",  and "Announcement" — appeared on TV and digital, and aired nationally on cable and in key states including Colorado, Iowa, Maine, North Carolina, Utah, and Washington D.C.
Statement from JCN President Carrie Severino:
"We are excited to highlight these two amazing women who have been positively influenced by Judge Amy Coney Barrett. Judge Barrett is not only exceptionally accomplished, but she is also a role model to young women across the country."
Ad "Amanda": https://youtu.be/LJFVq8ZOo_8
Ad "Laura": https://youtu.be/5etjaIB_79k
Ad Script for "Amanda":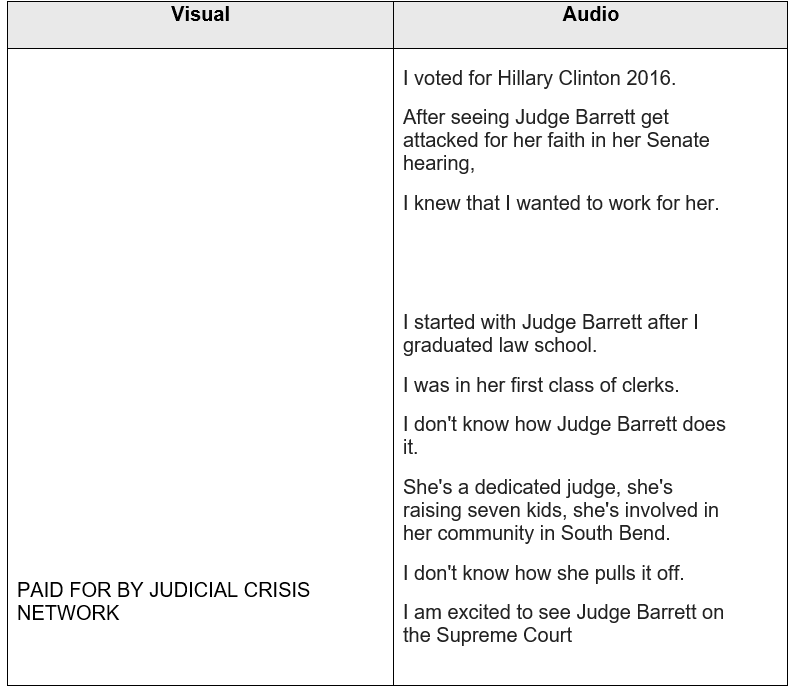 Ad Script for "Laura":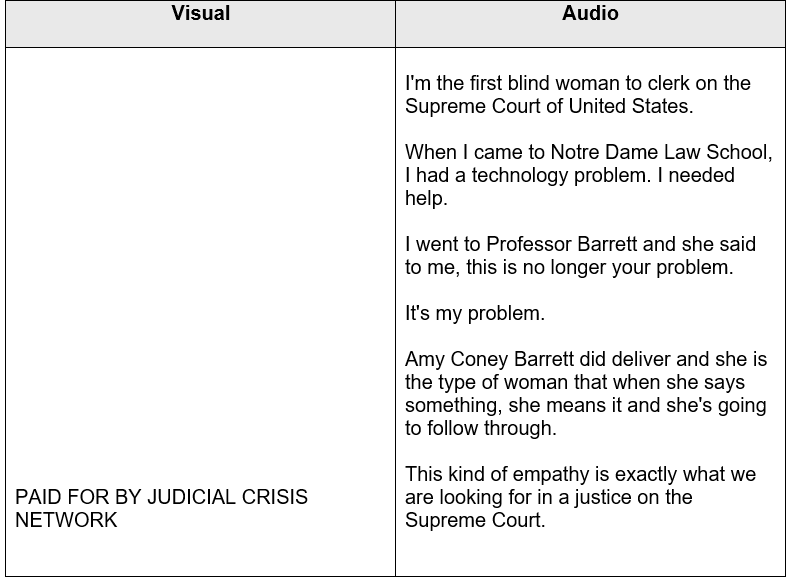 Background:
JCN Continues Drumbeat for Judge Amy Coney Barrett with New Ad Campaign: https://judicialnetwork.com/in-the-news/jcn-continues-drumbeat-for-acb/
**Note: JCN played a major role in previous Supreme Court battles and ran multimillion-dollar campaigns to support the successful confirmations of Justices Gorsuch and Kavanaugh."
www.ConfirmAmy.com
© 2020 JCN. All rights reserved.  A project of the Judicial Crisis Network
###