THE CASE FOR CONFIRMATION
Judge Barrett is exceptionally qualified, committed to the Constitution, and should be confirmed without delay.  Judge Barrett is grounded in faith and family.  She's a role model for young women across the country.
Justice O'Connor was confirmed in 33 days.  Justice Ginsburg was confirmed in 42 days.  Both were confirmed nearly unanimously.
Democrats oppose Judge Barrett—instead of supporting her like they did O'Connor and Ginsburg—because they are beholden to extreme liberals who are burning down our cities and ripping apart the fabric of our nation.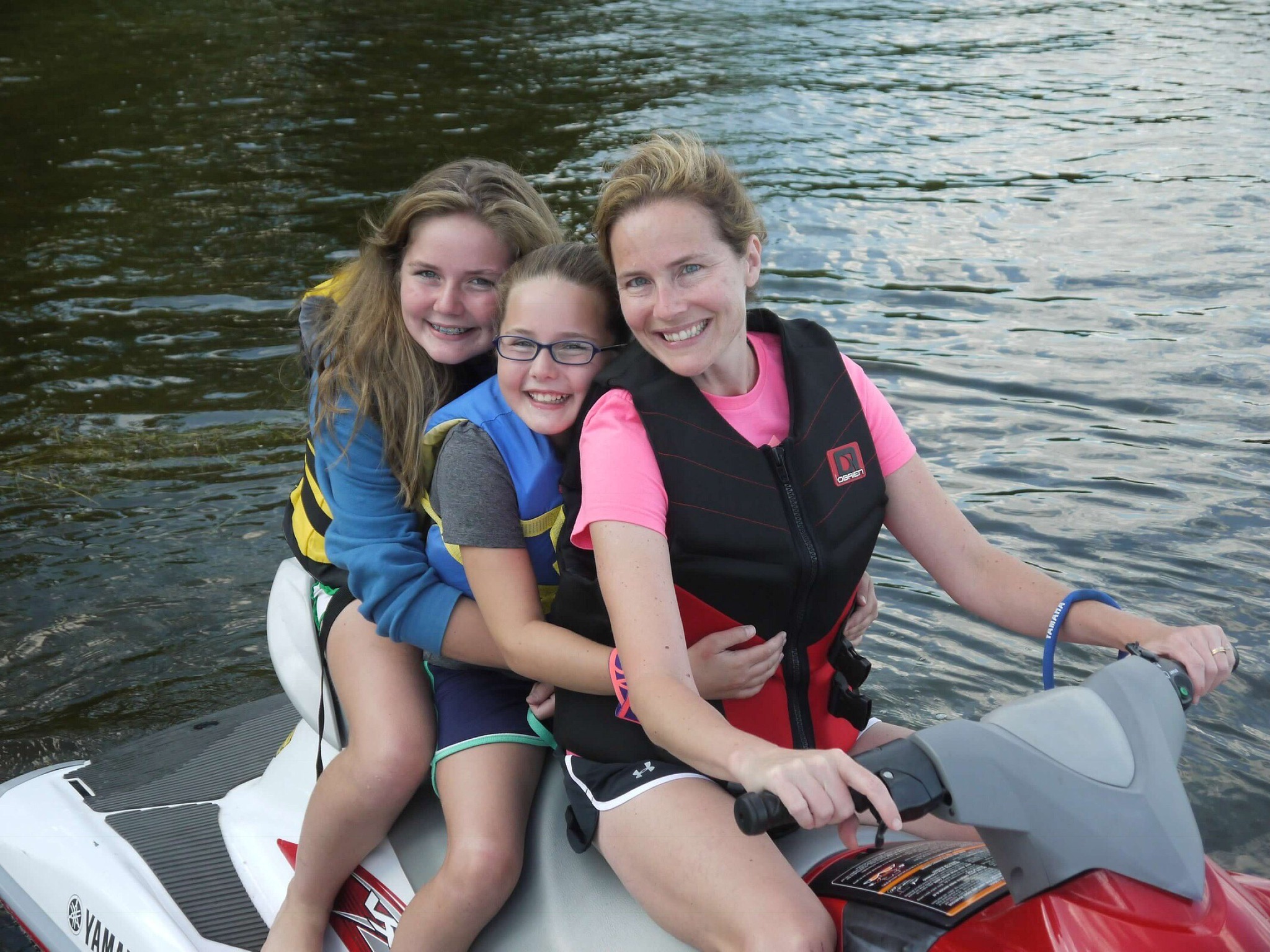 Judge Barrett is a top legal scholar and is exceptionally qualified to serve on the Court.
Judge Barrett has served in prestigious academic positions, teaching law at the Notre Dame Law School, the George Washington University Law School, and the University of Virginia Law School.
Judge Barrett has taught and researched in the areas of federal courts, constitutional law, constitutional theory, statutory interpretation, civil procedure, and evidence.
Judge Barrett's scholarship has been published in leading law journals, including the Columbia Law Review, Virginia Law Review, and Texas Law Review.
Judge Barrett clerked for Supreme Court Justice Antonin Scalia and D.C. Circuit Judge Laurence H. Silberman.
In recognition of her expertise, before she became a judge she was appointed by the Chief Justice to serve on the Advisory Committee for the Federal Rules of Appellate Procedure from 2010-2016.
Judge Barrett is committed to the Constitution.
Judge Barrett has consistently expressed her belief that it is "never appropriate for a judge to impose that judge's personal convictions . . . on the law."  Instead, she believes that judges should base their decisions on laws and the Constitution.
Judge Barrett understands that power under our Constitution ultimately rests with the American people, and that it is the structure of our Constitution that protects our liberties.  That fundamental understanding puts her firmly in the mainstream of American legal thought.
Judge Barrett is an originalist and a textualist who believes that the role of a judge is to say what the law is, and not what it should be.
Judge Barrett is a role model for young women across the country.
Not only has Judge Barrett achieved the highest levels of professional success, she has also invested in the professional development of other women, serving on the University of Notre Dame's Committee on Women Faculty and Students and as the faculty advisor for Notre Dame Law School's Women's Legal Forum.
Because of her personal and professional excellence, she was twice recognized by Notre Dame's students with the Distinguished Teaching Award, an honor given to a faculty member "who exhibits excellence in leadership, friendship, legal knowledge, legal teaching, and professional ability."
As Notre Dame law professor Richard Garnett noted, she "is careful, conscientious, civil, and charitable, and blessed with an unusual combination of decency, grace under pressure, kindness, rigor, and judgment."
Judge Barrett should be confirmed without delay.
Like Justices O'Connor and Ginsburg, Judge Barrett is a person of impeccable character and extraordinary achievement.  She received bipartisan support in the Senate in her last confirmation and deserves no less now. Judge Barrett would make another great justice.
Judge Barrett also received bipartisan and unanimous praise from her fellow Supreme Court clerks. Every one of the law clerks from the 1998-99 Term (including Justice Ginsburg's clerks) signed a letter praising her as "smart, honorable, and fair-minded" and emphasizing that she will "make an excellent addition to the federal bench." The clerks praised her "remarkable legal abilities" and remarked that she "conducted herself with professionalism, grace, and integrity."
The Senate should give Judge Barrett a full and fair hearing and confirm her so that the Court can continue its important role of upholding the law.
Democrats oppose Judge Barrett because they are beholden to extreme liberals who are burning down our cities and ripping apart the fabric of our nation.
Democrats want to defund the police, and they are standing by while our cities burn.
The election has not even happened, and yet Democrats are already threatening to pack the Supreme Court and abolish the legislative filibuster.
This country has a long history of promoting and protecting religious liberty.  Yet Democrats and their allies have decided to attack Judge Barrett because of her faith.
KEY DECISIONS & QUOTES
DEFENDING RELIGIOUS LIBERTY
Judge Barrett has consistently defended the religious liberties of all Americans.
In Grussgott v. Milwaukee Jewish Day School, Judge Barrett joined a unanimous opinion holding that it was appropriate to defer to a Jewish school's own determination of which of its employees is "ministerial" for purposes of the First Amendment's protection of the free exercise of religion.
In Schlemm v. Carr, Judge Barrett joined another unanimous opinion holding that a Native American prisoner was entitled to a reasonable accommodation of his faith in which prison officials would provide him with game meat that he needed for certain religious ceremonies.
Judge Barrett has consistently stated her fidelity to the Constitution of the United States. When Senator Sheldon Whitehouse challenged Judge Barrett on whether her Catholic faith and her adherence to Catholic social teachings would impact her rulings in cases, especially those involving members of the LGBTQ community, Judge Barrett responded:
Consistent with the views articulated in my writings and public statements, including my testimony at my hearing, I do not think it lawful for a judge to impose personal opinions, from whatever source they derive, upon the law. If confirmed, I will apply the law faithfully and impartially in accordance with the judicial oath.
After Judge Barrett's Catholic faith was brought up Senate Democrats several times during her hearing, Sen. Orrin Hatch (R – Utah) responded at a press conference:
As former Chairman of the Judiciary Committee and Chairman of the Finance Committee today, I have to say that we stoop pretty low if we start to raise questions of religious belief before somebody can serve on the federal judiciary. Now I hope that that type of questioning will hit the dustbin of history, where it belongs. Amy Barrett is a very qualified person. She should not be disqualified because she has a firm religious belief . . . I really resent the application of a religious test because she's devout in her faith. You can be devout in your faith and still uphold the law, even sometimes when you disagree with the law.
Archbishop William Lori of Baltimore, who serves as the chairman of the U.S. Conference of Catholic Bishops' Ad Hoc Committee on Religious Liberty, denounced Senator Dianne Feinstein's line of questioning during which she told Judge Barrett, "the dogma lives loudly within you, and that's a concern":
America has a strong and venerable tradition of pluralism that respects all religious views. In this context, this week's hearing before the U.S. Senate Judiciary Committee is deeply disappointing. Rather than simply consider the professional achievements of a nominee for the federal judiciary, multiple senators challenged her fitness to serve due to her Catholic faith.
HONORING THE CONSTITUTION: TEXTUALISM, ORIGINALISM AND THE RULE OF LAW
Evan Bernick, a visiting lecturer at the Georgetown University Law Center and a fellow of the Georgetown Center for the Constitution, describes Judge Barrett's jurisprudence this way:
Like Justice Gorsuch and the late Justice Scalia, Judge Barrett is a textualist. Her scholarship stresses the importance of interpreting constitutional and statutory provisions consistently with the original public meaning of their text—the meaning that an ordinary member of the public would attach to their constituent words and phrases in context—and declining to depart from that public meaning when it's clear.
Along these lines, in Congressional Originalism (2016), Judge Barrett and John C. Nagle argue that originalism replaces judicial intervention with congressional authority:
The conventional position of modern originalists . . . is that the original public meaning of the Constitution's text is 'the law.' The consequence of that position is that the original public meaning of the Constitution binds the legislators who swear to uphold it . . .
ENFORCING CONSTITUTIONAL SEPARATION OF POWERS
Judge Barrett believes in enforcing the separation of powers between our three branches of government, and in preserving the President's authority over the Executive Branch bureaucracy.
In her writings, Judge Barrett has consistently rebuffed calls from both the left and right for a more activist judiciary, stating instead her view that judges should "uphold the Constitution—nothing more, nothing less."  The Constitution's separation of powers is important, in her view, because "[c]ourts are not always heroes and legislatures are not always villains. They are both capable of doing good, and they are both capable of doing harm." Countering the Majoritarian Difficulty, 32 Const. Comment. 61 (2017). She emphasized that "it is illegitimate for the Court to distort either the Constitution or a statute to achieve what it deems to be a preferable result."
RESPECTING THE SECOND AMENDMENT
Judge Barrett respects the Second Amendment.  Applying the text, history, and tradition of the Constitution, Judge Barrett wrote a dissent in Kanter v. Barr arguing that the government had no power to ban non-dangerous individuals from possessing guns.
Judge Barrett wrote that nothing in Founding-era history supported a categorical ban denying all felons of their right to own firearms, concluding instead that "the legislature may disarm those who have demonstrated a proclivity for violence or whose possession of guns would otherwise threaten public safety."
Judge Barrett also argued that all citizens are protected by the Second Amendment even though Congress has limited power to strip certain persons or groups of those rights.
REINING IN THE ADMINISTRATIVE STATE
Judge Barrett has ruled against regulatory overreach by administrative agencies.
In Orchard Hill Building v. U.S. Army Corps of Engineers, Judge Barrett joined an opinion refusing to give deference to an Army Corps of Engineers decision classifying a landowner's property as "jurisdictional waters of the United States" under the Clean Water Act.  The three-judge panel held that the Army Corps' decision "lack[ed] record support or explanation." This decision reflects a proper willingness to hold administrative agencies to their burden when they seek to regulate private conduct. The court emphasized that it refused to be a "rubberstamp" for anything done by a federal agency.
In Humphrey v. Trans Union, a lending company urged the court to defer to the Department of Education's interpretation of a regulation in a dispute involving an individual who sought to discharge his student loans because of his disability.  Judge Barrett joined a unanimous opinion that declined to defer to the agency's interpretation because its reading would be "plainly erroneous" and "inconsistent" with the actual regulation, which was clear.